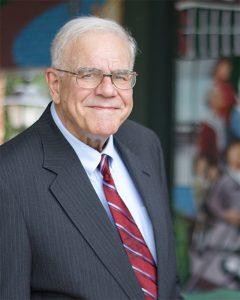 C. Thomas Bienvenu Jr.
Thomas Bienvenu, Jr. graduated from the Tulane University of School of Law with a Bachelor of Law degree in 1959. He was a member of Phi Delta Phi legal fraternity and Sigma Alpha Epsilon social fraternity.
Judge Bienvenu began his private practice in his hometown of St. Martinville in 1962. He served as Judge of the Sixteenth Judicial District Court of Louisiana, Div. A, serving the parishes of St. Martin, Iberia, and St. Mary from 1976 until his retirement in December of 1995. Prior to serving as Judge, he held the post of Assistant District Attorney for the same judicial district from 1966 until 1976. Judge Bienvenu, by special assignment of the Louisiana Supreme Court, also served on the Louisiana Third Circuit Court of Appeal in 1981.
He has served his community-at-large as a member of the board of directors and past president of the Southwest Louisiana Rehabilitation Association, as a past president of the Trinity Catholic School PTA, as former chairman of the Trinity Catholic School Board and Our Lady of Mercy High School Board, as a member of the board of directors of Our Lady of Lourdes Regional Medical Center, Inc. and was the charter president of the St. Martinville Jaycees in 1963. In addition, he is a member of the St. Martinville Rotary Club, Knights of Columbus, Woodmen of the World, Iberia Parish Bar Association, Louisiana Association of Defense Counsel, and the Louisiana Trial Lawyers Association.
CURRENT EMPLOYMENT POSITION
Of Counsel, Retired District Judge
AREAS OF PRACTICE
Insurance Law, Personal Injury – Defense, Personal Injury – Plaintiff, Probate & Estate Administration
BAR ADMISSIONS
Louisiana
EDUCATION
Tulane Law School, New Orleans, LA, 1959 Bachelor of Law Degree
Attended Southwestern Louisiana Institute from 1954 through summer of 1955
Graduate, St. Martinville, LA, High School, 1954
CIVIC
Southwest Louisiana Rehabilitation Association Member, Board of Directors
Southwest Louisiana Rehabilitation Association Past President
Trinity Catholic School PTA Past President
Trinity Catholic School Board Former Chairman
Our Lady of Mercy High