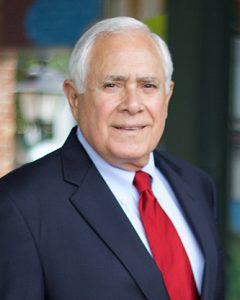 Theodore M. "Ted" Haik Jr.
Theodore M. "Ted" Haik, Jr. is a Blue Key Honor Society graduate of the University of Louisiana at Lafayette and President of the Student Body Association. He earned a Juris Doctorate from Loyola University Law School in New Orleans.
Elected to the Louisiana Legislature in 1975, he spent 20 years representing Acadiana in the House of Representatives. He served as Chairman of the Insurance Committee, Capital Outlay Committee, "Child Net" Handicapped Services Committee, and Subcommittee on Environment. He served as a member of the Civil Law and Procedure Committee, Judicial Reappointment Task Force, State Bond Commission and Judiciary Committee.
Upon retirement from the Legislature, Ted was appointed as the first Chairman of the Louisiana Property and Casualty Commission, a commission comprised of legislators, the Department of Insurance and various consumer groups and served as chairman from 1996 to 2014. Presently, he serves as a member of the Louisiana State Mineral and Energy Board.
Always active in civil and professional organizations, Ted has served as President of the Iberia Parish Bar Association and received eight legislative awards for outstanding service during his public service. He has also served as a member of the Sacred Heart Catholic Church Pastoral Council and Chairman of its capital building program. He was city attorney for the City of New Iberia for 8 years and during his tenure was elected as President of the Louisiana City Attorney Association.
Ted is the senior partner in the law firm of Haik, Minvielle, Grubbs & D'Albor. The areas of practice include Insurance Regulatory Law, Insurance Defense, Negligence Claims, Criminal Defense, Corporate Law, hospital third-party collections and Medicaid reimbursement. He is admitted to practice in all courts in the State of Louisiana, the U. S. District Court, Western District of Louisiana, Eastern District of Louisiana, Middle District of Louisiana, and the Southern District of the State of Texas. He is admitted to practice before the U.S. Court of Appeals, 5th Circuit and the United States Supreme Court.
Ted is a former Captain in the Louisiana Army National Guard and a graduate of the University of Virginia Military Law School. He is married to the former Carol Redmond, they had four children, two of which practice law with him in his law firm.
CURRENT EMPLOYMENT POSITION
Senior Partner
AREAS OF PRACTICE
Insurance Regulatory and Defense, Insurance Defense, Admiralty and Negligence Claims, Corporate, Criminal Law, Hospital, Third-Party Collections
LITIGATION PERCENTAGE
60% of Practice Devoted to Litigation
BAR ADMISSIONS
Louisiana, 1969, U.S. District Court Western District of Louisiana
1970, U.S. District Court Eastern District of Louisiana
U.S. District Court Southern District of Texas
U.S. Court of Appeals 5th Circuit
1970, U.S. Supreme Court
EDUCATION
Loyola University New Orleans School of Law, New Orleans, LA, J.D.
University of Louisiana, Lafayette, LA, 1966, B.A. Major: History
University of Virginia Military Law School
Graduate of Catholic High School, New Iberia, LA
CIVIC
Past President – New Iberia Retarded Children's Association
Past President – Jeanerette Chamber of Commerce
Past Member – Board of Directors, Greater Iberia Chamber of Commerce
Member – New Iberia Jaycees (Distinguished Service Award – 1975)
Member – Board of Directors, Sacred Heart Catholic Church and Finance Chairman for new church
PROFESSIONAL
Member and Past President – Iberia Parish Bar Association
Member – Louisiana Bar Association
Member – American Bar Association
Member – American Trial Lawyers Association
Member – Louisiana Association of Defense Council
Master and Charter Member of Teche Inns of Court
Member – Louisiana Property & Casualty Commission
President – Louisiana City Attorney Association and Board of Directors
Member – Louisiana Association of Hospital Attorneys
Member – Louisiana Hospital Attorneys
MILITARY
Graduate – Louisiana National Guard Officer Candidate School
Graduate – University of Virginia Military Law Course
Captain (Ret.) – Louisiana National Guard, Judge Advocate Corps
ELECTED OFFICES HELD
Retired State Representative, District 49, Parishes of Iberia, Vermilion & St. Mary (1975-1995)