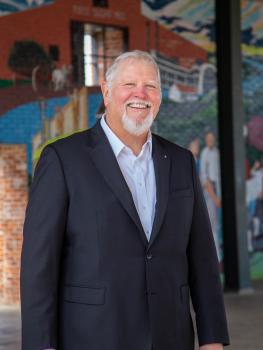 Julius W. "Will" Grubbs Jr.
Will Grubbs joined the law firm Haik & Minvielle, Grubbs & D'Albor, LLP in July 1986. After joining the firm, he became a partner in 1992 and the firm's name was changed to Haik, Minvielle, Grubbs & D'Albor, and LLP, in 2021. His caseload with the firm primarily involves the defense of complex, comprehensive casualty and property claims, including automobile, bad faith, catastrophic loss, excess, highway defect, premises liability, property, railroad, and trucking matters. Additionally, he maintains a general practice of law, which includes the pro-bono representation of individuals and charitable organizations.
Grubbs is a member of the Iberia Parish and Louisiana Bar Association as well as the Louisiana Association of Defense Counsel and the Claims and Litigation Management Alliance. He served as the 2013 President for the Inn on the Teche, Inns of Court Chapter and was appointed to the Louisiana Property and Casualty Insurance Commission in 2014. He has achieved a rating of AV Preeminent from Martindale-Hubbell and is a past presenter for the Claims and Litigation Management Alliance (CLM) and other organizations. Since 1988, he has served as Special Assistant Attorney General for the Louisiana Department of Justice. He served on the Governor's Commission on Medical Malpractice in 1988-1989. He is admitted to practice before all State and Federal Courts in Louisiana and the United States Fifth Circuit Court of Appeal.
CURRENT EMPLOYMENT POSITION
Partner
AREAS OF PRACTICE
Special Assistant Attorney General, Louisiana Department of Justice; Complex, Comprehensive Property and Casualty Claims; Auto Accident Lawyer; Highway/Railroad Crossing Hazards; Maritime Lawyer and Longshoreman; Medical Malpractice, Governmental Liability
LITIGATION PERCENTAGE
90% of Practice Devoted to Litigation
BAR ADMISSIONS
Louisiana, 1980
U.S. District Court Eastern District of Louisiana, 1980
U.S. District Court Middle District of Louisiana, 1980
U.S. District Court Western District of Louisiana, 1980
U.S. Court of Appeals 5th Circuit, 1989
EDUCATION
Louisiana State University Law Center, Baton Rouge, LA, 1979 Juris Doctor
Louisiana State University, 1978 Bachelor of Science
Terrebonne High School, Houma, LA, 1973
CIVIC
Rotary International Club President (1997-1998)
Republican Party, District PAC Chairman, 1996 Convention Delegate
PROFESSIONAL
Iberia Parish Bar Association Member
City & Parish Court Strategic Planning Committee Member
Louisiana Association of Defense Counsel Member
Louisiana Association for Justice Member
Governor's Commission Medical Malpractice Member
Inns of Court President – Teche Inn, 2012-14
President of Inns of Court, 2016-17
Claims & Litigation Management Alliance Member